Blog article title goes here.
Intro text goes here Axim dis doluptio tem erum unt. Accupie nimoloribus esto et eos reped ut fuga. Officius untotate pratur? Em quo de aut quosant apit quo Equam faciis volorio. Les quas aut optates sim dem que ommolupta con
Example of an email address hello@lovecreative.com and a normal link www.anything.agency
Selfridges shows us christmas 3019
If you favour a cool, conceptual Christmas over the more mundane festive fare peddled by many brands, Selfridges have got you covered.
The Corner Shop section of the Oxford Street store has been taken over by artist Daniel Arsham, whose vision of a futuristic family home now fills the space.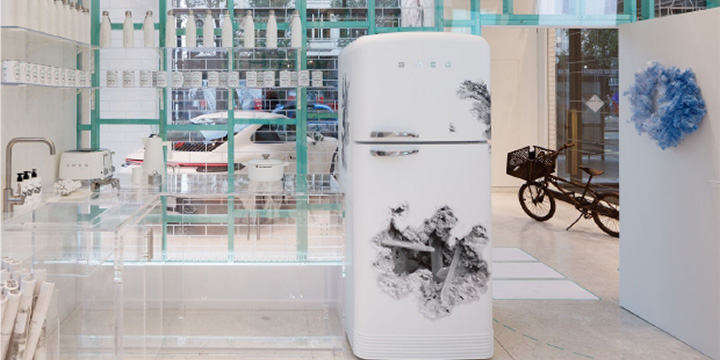 Of course, the typical family residence of 3019 is still stocked with consumer goods. Shoppers are treated to Arsham's unique take on everything from Heinz tomato soup to an Apple computer and the Porsche 911 parked in the drive.
The New York-based artist doesn't offer a conventional vision of the future, however. He creates "eroded" versions of today's familiar items, as if they've been rediscovered as fossils.
"It's about placing artwork in a context that's unexpected and something people wouldn't typically find in a place like Selfridges," Arsham said of the installation.
Everything on display is essentially a tie-in with other brands, from the Porsche to the sportswear and festive decorations created with various studios. Looks like we can still look forward to plenty of hot collabs in 100 years' time.
JME shuns digital album release
UK rapper JME took a defiantly old-school approach to releasing his long-awaited new album, Grime MC.
The Tottenham artist's latest tracks won't be appearing on anybody's most-streamed Spotify playlist any time soon, as the release is available on vinyl and CD only – for now.
JME, co-founder of the Boy Better Know grime collective alongside older brother Skepta, said the album will find its way to digital platforms "in the future before I die".
But the physical-only launch (supported by a throwback promo tour of HMV stores) is the perfect way for the artist to reinforce his no-frills approach and fiercely independent credentials. It's also a reminder that creativity can still thrive in an industry where the dominance of the streaming monoliths increasingly goes unchallenged.
Album review coming soon.
(we just need to find a record player).